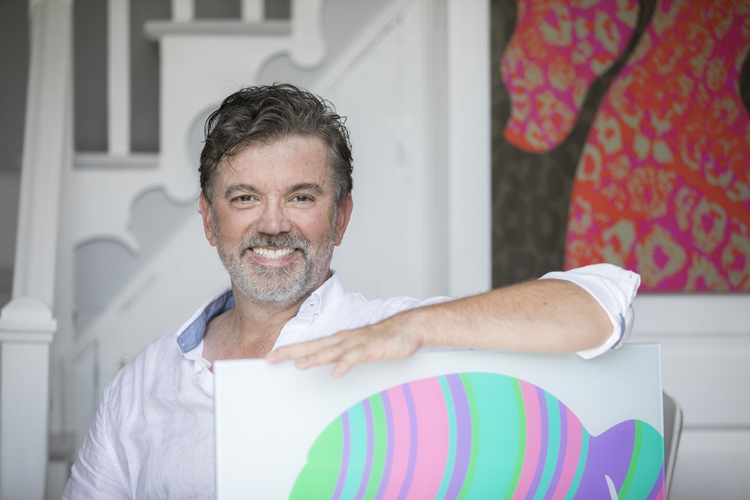 "My Silhouettes on Acrylic reflect the boundless possibilities of color and pattern as they caress the subject's profile. They're about capturing that beloved shape/face and permeating it with delight, with excitement, with joie de vivre." — Antonio Muñoz
Antonio's professional background is in art direction, with extensive experience as a surface artist for the high-end textile and paper industries. Led by his love of interior design, in 2012, Antonio started combining his original designs with the silhouettes of children and pets, creating large-format personalized visuals on acrylic, that soon caught the eye of interior designers, who started commissioning pieces for their clients.
The work of Antonio Muñoz is both sophisticated and uniquely infused with a signature joie de vivre. Inspired by the exploration of vibrant color stories, stylish patterns, and iconic silhouettes, Antonio creates contemporary digital visuals full of playful personality. His pieces have a lively graphic allure that will distinctively complement your décor.
In addition to his limited edition works, Antonio's custom silhouettes allow him to create one-of-a-kind pieces for his clients, turning their children, pets, or their own silhouettes into personalized art pieces. Antonio's work has been showcased in the popular Art & Design blog 'The English Room,' featured in House & Garden magazine. Houzz awarded him with "Best of Houzz" from 2015 through 2018.
Originally from Guayaquil, Ecuador, Mr. Muñoz resides in the USA since 1990, becoming a citizen in 1999. He is a member of the Ridgefield Guild of Artists, and served on its board of directors from 2010 until 2017. He is also a member of the Art Society of Old Greenwich.